A Belgian newspaper
apologised
Monday following outcry over an image showing US President Barack Obama and First Lady Michelle Obama with their faces photoshopped to look like apes. The image was printed alongside another that implies President Obama sells marijuana.
The images appeared in Flemish newspaper De Morgen's Saturday edition, in a satire section called "The Obama Herald". The paper joked that Russian President Vladimir Putin sent in the photos. The controversy comes ahead of an official visit by President Obama to Belgium. He is
scheduled
to arrive in Brussels Tuesday.
The apology from De Morgen's editors came in an article entitled, "Is De Morgen Racist?". They
called
the image a "tasteless joke", explaining, "We wrongly assumed that racism is no longer accepted, and that in this way it could be the subject of a joke".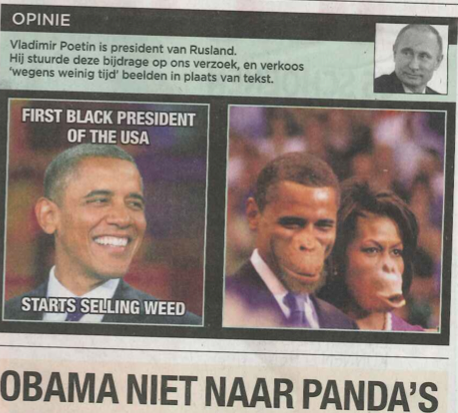 You'll always see.
Just when the morning comes out with a journalistic assignment of an additional booklet about Barack Obama, the newspaper captures international headwinds with admittedly tasteless joke about the U.S. president.
It was Saturday afternoon around four o'clock when the Nigerian-Belgian writer Chika Unigwe tweet circulated: "We still have much work to do Shame on @ demo gene.." The message was accompanied by a photo of an excerpt from "The Daily Herald, the weekly satirical contribution in this paper. 'The Herald' this weekend, as the 'Reporter'-section that precedes it, totally dedicated to President Obama, following his arrival in Belgium this week. In the part you see how President Putin would have sent a photo in which he gives the U.S. president a few monkeys face. Obviously this was meant as a joke, but it got completely wrong. "An attempt at anti-Putin joke that shoots out completely the wrong way," summarizes EU correspondent Michiel Van Hulten, even on Twitter, appropriately together. Many see a trivialization of racism. So roll the ball further protest. Chika Unigwe, also in the Anglo-Saxon world has a great fame as an author, tweet her furious reactions in English and Dutch in the world. She gets a lot of acclaim. A bit in Flanders, many in the Netherlands, and many in the U.S.. Even people from Nigeria and other African countries expressed outrage and accused the newspaper of racism. The Dutch news Joop.nl associated with broadcasting Vara, dedicating a piece that shares the outrage. Domestically, the tone remains calm. Because Belgians / Flemings simply sneak all racists? Or because many believe that the Morning, still known for its unsuspected anti-racist position, plots of rate has not changed, but a moment of bad taste has had? The second explanation sounds plausible. She also offers an explanation for the strong emotional reactions from the rest of the world.
Get rid of the fragment context of satirical page in addition elaborate theme attachment, is indeed rather a joke burnt a picture of unadulterated racism forward.
That risk is insufficient advance estimate, realizes the editors now.
Thin Line
When The Morning earlier this month in response to Women showed off a similar thematic annex on gender equality, there was a contribution to the return of sexism among an often ironic shell. Many of the arguments which were then cited to debunk that sexism is - unfortunately - also applies to the way in which this case was dealt with racism. Everything, and certainly our own core values, should be in principle. Perspective with satire But the joke has to work. , the fallacy that they were still made, is the belief that racism is no longer generally accepted, and that therefore it can be laughed safely. It is intended as an absurd joke to make into a monkey, but a black president to light here forget that, especially in the U.S., the shameful equality between blacks and apes still regularly pops up. And then it's not meant to laugh. It makes it very understandable that some people feel hurt by the attempted satire in the newspaper. Laughter continues with racism, as it turns out now, a thin line. That's not even about free speech, but good taste. Precisely at a time when the Dutch politician Geert Wilders goes beyond serious racist provocations, this theme is also in our more sensitive. Partly explains why the failed Obama joke too much provokes strong reactions from the Netherlands. De Morgen offers its apologies to anyone who feels offended by the relevant passage in the newspaper. Sorry. We argue in this case guilty of bad taste. With equal conviction as always, we remain on the side of all those multitudes fighting against all forms of racism. Like the rest of the Obama Annex illustrated this weekend, we will see that in our journalistic practice trying to make clear. Daily Do not hesitate to point out when we go out once the bend us.